Hayfever Alert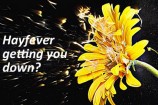 Free help with hayfever?
When you GET A HOMEOPATHIC REMEDY you can start to FEEL WELL QUICKLY !
CALL THE HAYFEVER HOTLINE ITS FREE!
01747 853766 Mon-Thurs 9.15-9.45
Call Carole FREE TODAY
OR TRY THE
SELF HELP GUIDE
ASK YOURSELF THESE QUESTIONS
(remedies in brackets)
Do you feel worse indoors. (Euphrasia)
Do you have a very red sore nose?
Are your symptoms are the same as peeling an onion.
Does your head feel like cotton wool?(Allium Cepa)
Do you feel dull dozy and dizzy and achy with flu-like symptoms (Gelsemium)
Do you want to scratch your palate really hard with your tongue ( Wyethia)
Do your ears, nostrils, itch like crazy violent sneezing(Arundo)
Do you know it's just an allergy to grass or tree pollen (Grass or Tree Pollen)
You can PURCHASE THESE REMEDIES FROM BVCH your local homeopath! (Cheaper than a perscription & works fast) I don't know if thats true in brackets???
CALL THE HAYFEVER HOTLINE NOW
01747 853766 Mon-Thurs 9.15-9.45